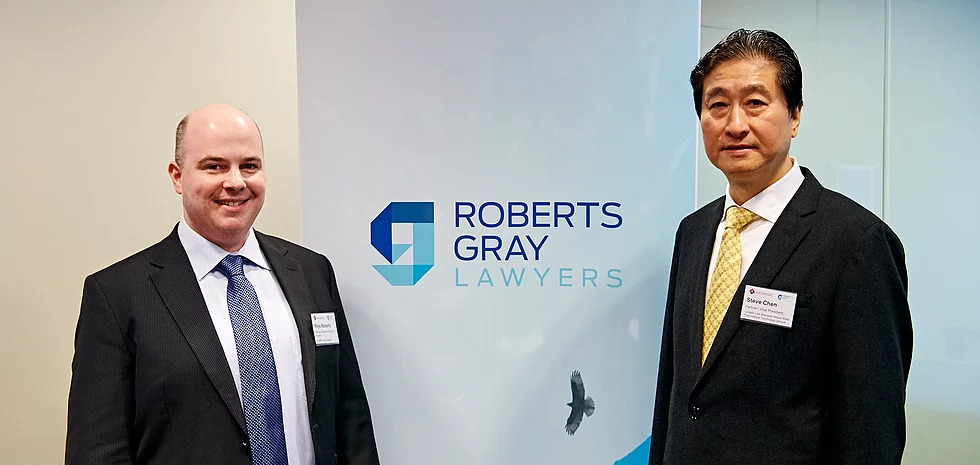 ROBERTS GRAY LAWYERS CONTINUES TO TAKE THE LEAD IN SUPPORTING AUSTRALIAN EXPORTS AND OVERSEAS INVESTMENTS
Sponsored and supported by Roberts Gray Lawyers, Mr Steve Chen, Partner, Longan Law Shanghai and Vice President, Hainan Boao Pree Medical Technology Service Co. Ltd, on Friday 9 August 2019 made an important presentation as part of the ongoing Australia China Business Council, Victoria program of events.
Mr Chen outlined opportunities for Australian businesses to utilise the different Free Trade Zones to launch, commercialise and market Australian pharmaceutical, biomedical, medicinal and cosmetic products, equipment and technology.
Mr Chen identified the opening up of three industries as critical for the long-term economic growth of China: cosmetics medicine, management and treatment of rare diseases and regenerative medicine.
To provide sustainable infrastructure for this range of initiatives, Mr Chen said International Medical Innovation Transfer Centers will be established. He said two early innovations will be "platforms" for management/treatment of rare diseases and a cross-border E-commerce platform for cosmetics medicine.
Roberts Gray Lawyers is providing a number of initiatives to support Australian businesses considering how best to use these opportunities in China.